Dragon Heartstring (The Vale Of Stars #0.5)
by
Juliette Cross
Purchase link:
Amazon
My rating:
Heat rating: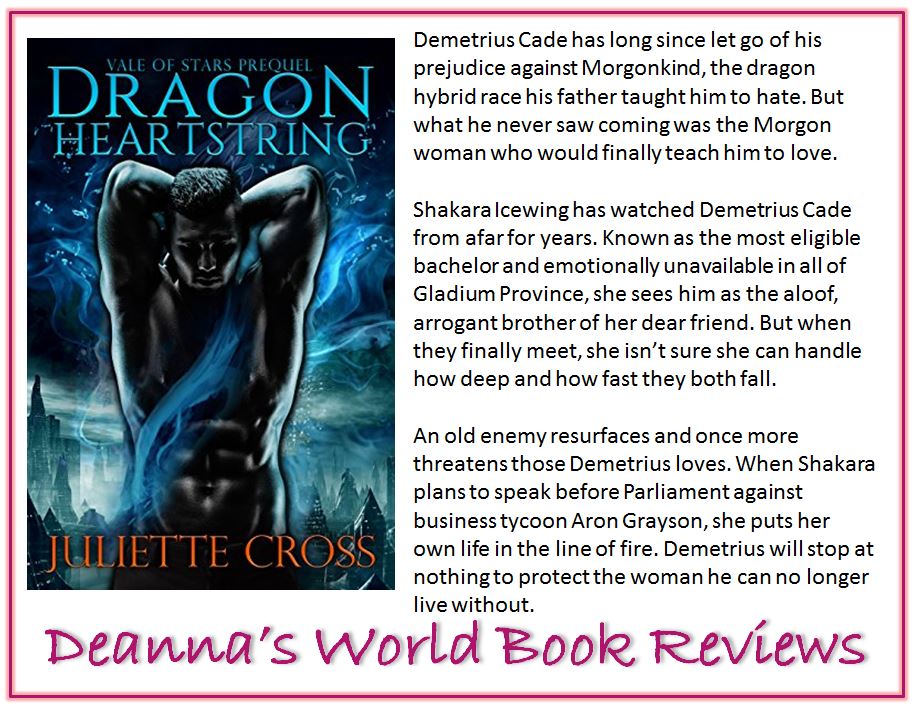 I'm so excited to have a new Juliette Cross to read because getting a new Juliette Cross book to read makes me feel rather like a person going through withdrawals getting a fix. I was in need of some excellent writing after a few recent disappointments. Juliette has such a way with words. Where her use of words is short and succinct, she still manages to convey her meaning with clarity and efficiency. I never need to be concerned about the writing because the writing is always good. I can simply immerse myself into the reading experience and allow her to take me on a journey.
Dragon Heartstring is the prequel to the Vale of Stars series even though it comes out after Waking the Dragon and Dragon in the Blood. It is the bridge between the Nightwing series where we are introduced to the Morgons and the Vale of Stars series where a war is brewing amongst Morgonkind. That said, it is not necessary to have read the Nightwing series prior to reading Dragon Heartstring. True, you get a better feel for some of the characters mentioned if you do, but it's not necessary. Juliette does an excellent job of letting all the characters standalone and providing enough information for you to feel you are a part of the world.
I met Demetrius in Soulfire and my impression of him was of a rather cold, calculated man with a protective streak a mile wide for his sister Jessen. In Dragon Heartstring, we see the same Demetrius at the beginning but there is so much more to him than meets the eye. Demetrius is intense, strong, sexy, protective and so much of an alpha male he'll give the Morgon males a run for their money. He's also hot as heck. Seriously, the sex scenes in this book are the hottest Juliette's ever written, I think. They will knock your socks off. That first sex scene though.....
As for Shakara, while she is a Morgon female, she is also delicate, fragile and beautiful. However, that does not make her weak. Quite the opposite in fact. Shakara is a caring, giving person who is willing to take risks to stand up for things she believes in, like sharing her healing gifts with humans, and stopping a weapon aimed at murdering Morgons from being sold. I think in Shakara we see the perfect partner for Demetrius, someone who is gentle to his toughness, flexible to his immovability.
When Demetrius and Shakara come together we see a lot of the themes from the Nightwing series reemerge. The racial prejudice in the Nightwing series is very prominent here though on a smaller scale focused between Demetrius and Shakara. Both of them have prejudices to overcome through a lifetime of preconceived notions of the the other race. This is handled delicately and skillfully. When the topic arises, it is dealt with swiftly and with expert care. If you aren't careful, you might even miss the transition of Demetrius from slightly prejudiced to accepting of his attraction towards Shakara. Demetrius is a decisive man. He has to be in terms of being good at what he does in the business world. He handles his personal life in the same way. Once he makes a decision, he pursues his goal with ruthless efficiency. This is where we see the alpha male in him come to the forefront. It's rather spectacular to behold.
I loved the concept of the Dragon Heartstring as well and I want more of it. Just as I adore the concept of Soulfire.
Dragon Heartstring concludes with a hint that more is brewing on the horizon. Congratulations on an excellent prequel to the Vale of Stars series. I can't wait for the next book.
View all my reviews
Other books in the series:
Ab

out the author




Juliette Cross:
Website
-
Amazon Author Page
-
Facebook
-
Twitter
-
Pinterest
-
Goodreads
-
Newsletter
Find Deanna around SOCIAL MEDIA: