Fatal Affair (Fatal #!)
by
Marie Force
Purchase link:
Amazon
My rating:
Heat rating: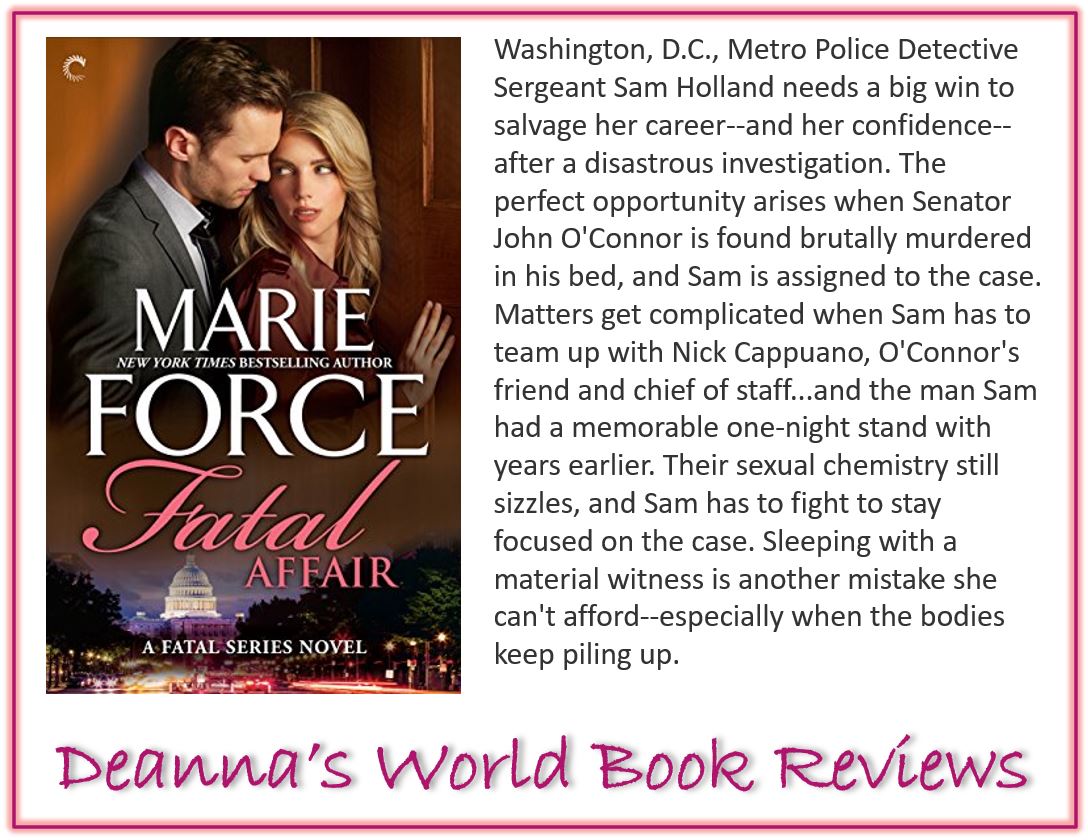 Fatal Affair is a gripping murder mystery along with a lovely second chance romance between Nick and Sam.
There are a lot of things going on that led me to reading and enjoying this book so bear with me. This could be a long review. First off, I admit to be very late to the game on this series. I'm new to Ms Force's books though I've know about her as an author for a long time and she's been on my "to check out" list forever. What started me considering reading her was an ad I saw for the first book in a spin-off series to the Fatal series and I was interested in reading that one since I liked the sound of it and I liked the occupations of the characters. Knowing nothing about the Fatal series or the characters, I joined her book group and asked what I should do. Of course, all the readers (super fans) in the group said I MUST read the whole previous series first before starting the new spin-off series. Ms Force and a few others responded saying that there's enough backstory in them that it can be read by the first time reader with no problem. Then someone suggested the prequel to the Fatal series and while I was reluctant to wade through sixteen previous books to get to the one I was interested in reading, I decided to read the prequel to get a feel for Ms Force's writing.
I generally tend not to read books of this length. They are a bit on the long side for me and the last three or four books I tried that were this length, I abandoned because they got boring, dragged, and had a lot of unnecessary filler which didn't contribute to the plot. With that said, I was wary about reading this book because it comes with great acclaim and a huge fan(atical) base. I also didn't want to DNF another book. What made me take the plunge and read the book, hoping for the best, was the fact that I read the prequel and enjoyed it. I liked Ms Force's writing style and she didn't waste a lot of words with on superfluous things. There was some backstory and background building but it was all skillfully and seamlessly done.
So, this book. I enjoyed it. I found the plot engaging. It was predominantly Sam solving a murder mystery so that kept my attention, plus at one point there's an explosion and I do like it when things go boom and characters almost get blown up. The action junkie in me likes that kind of thing.
I enjoyed the romance between Sam and Nick too. Yes, it's a bit of a second chance romance with Sam and Nick reconnecting after a one night stand six years prior and I loved the way Ms Force dealt with what happened in the past and why they were only now reconnecting. I liked the way Ms Force wove the reason they were separated into the plot and how that slowly revealed itself throughout with some alarming consequences. It's so much more than just a missed phone call.
I adore Nick. He's sweet, charming, caring, and protective. I love that he's all in from the moment he meets Sam again because he's never forgotten her and he's kept abreast of her and her career from a distance. She's always been on his radar. I guess he way just waiting for the opportunity to have her back in his life again. Nick is a wonderful partner for Sam. He's engaged, involved, and just possessive enough. There are some moments when Nick gets all alpha male on Sam and it's lovely to see how they work through it in light of who Sam is. I think I read the book in large part because of how much I loved Nick and I kept reading because I couldn't get enough of him. I wanted him to appear more in the book than he did but I get that a large part of the book was also solving the murder mystery so that had to be the focus too. Nick is so steadfast and so sincere it's impossible to not love him.
You gotta admire a woman like Sam. She's strong, independent, and dedicated. I loved her sense of family and her devotion to her father. I love how she mentored a younger detective and her wisdom and compassion when it came to that and dealing with bereft witnesses who had just lost a loved one. I liked that she's tough and determined as a police detective but at the same time soft and feminine as a woman. I think Ms Force did a great job of making Sam special but relatable at the same time.
I'm still surprised at how quickly I read the book. I got through it in one evening. I love that it held my interest even though it was a long (to me) book and I didn't get bored. I liked Ms Force's writing style and I like how she built up the conflict in the story without it being overwhelming but it still seemed realistic and believable. Now I've got to decide if I want read the next book in the series or if I want to move onto something else for a change. I still want to read the first book in the spin-off series and I'm debating skipping to that or continuing on. I'm still not sure if I want to take the time to go through sixteen books before I can get to the spin-off. What if I get bored and abandon the whole thing at some point? And making my way through sixteen books to get to the spin-off is a lot of work and will take a long time. I did read the blurbs of subsequent books to try to decide if I wanted to skip ahead or continue on. I haven't decided what I want to do yet. Decisions. Decisions.
View all my reviews
Ab

out the author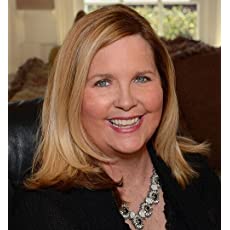 Marie Force:
Website
-
Facebook
-
Goodreads
-
Amazon
Find Deanna around SOCIAL MEDIA: