The Contract
by
Melanie Moreland
Purchase link:
Amazon
My rating:
Heat rating: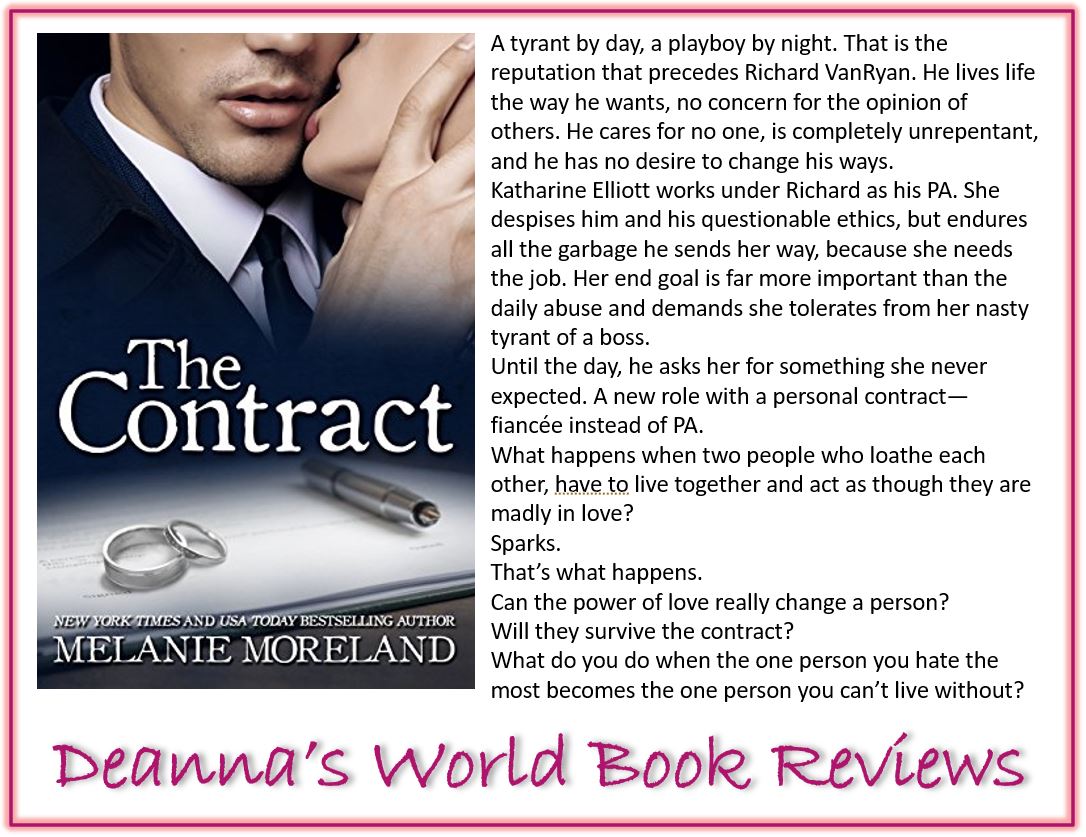 If it was possible to give this book six stars, or even ten stars, I would. It's compelling, engaging, intense, and emotional. I felt everything as I read this book and it's by far the best enemies to lovers story I have ever read.
This book is an enemies to lovers trope on steroids. I hate that trope. I generally tend to avoid it like the plague but I love Ms Moreland's writing and I met Richard in Maddox's book and I wanted to learn more about him. There is so much hate and dislike between Richard and Katy that this is about as enemies to lovers as it's going to get. It takes a long time to get to the lovers part too but Richard and Katy made it so worthwhile.
Richard is a grade A a**hole. It says so in the blurb and it's true. He's a jerk to Katy and utterly hateful. He's selfish and self-serving and he doesn't care about anyone other than himself. And then came Katy. Slowly, Richard begins to change. He doesn't even realise it or notice it himself. Not for a very long time. Perhaps not until it's too late. But I loved watching him evolve, watching him transform. It's such a thing of wonder. And the man that Richard truly become is worthy of a treasure like Katy. I love Richard so much.
At the beginning, Katy is going to seem like a doormat. She takes Richard's vileness and venom without question. She lets him ride roughshod all over her and treat her like crap. But underneath it all is a quiet strength and a backbone of steel. As Katy's story unfolds, we discover why she is the way she is. Her inner strength starts to shine through and she shows more and more of her true self to Richard and those around her. It's impossible to not love Katy. She is warmth and kindness and sweetness. It takes a woman like Katy to make a man like Richard want to be a better man.
There are so many other characters in the book to love too. I loved Penny for her role in Katy's life and what she meant to her. I loved Graham for the kind of man he is. If only more men were like him. The world would be a better place. The entire Gavin family are fantastic but Graham stands out. My favorite scene is when Richard is in the office packing and Graham comes in to ask him what's wrong. When Graham hears what's wrong, he immediately cancels everything to support Richard. That kind of support and generosity of spirit is priceless. One can only wish for a Graham in their life. It would be richer for it.
I continue to love Ms Moreland's writing and I'm on a bit of a binge right now so I'm moving straight to The Baby Clause 2.0. What a cute title for a book!
View all my reviews
Ab

out the author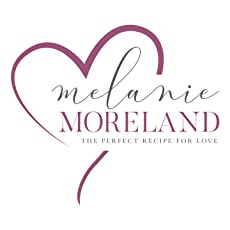 Melanie Moreland:
Website
-
Facebook
-
Twitter
-
Goodreads
-
Amazon
Find Deanna around SOCIAL MEDIA: