Enter The Dragon (Fire Mates #4)
by
Lexxie Couper
Purchase link:
Amazon
My rating:
Heat rating: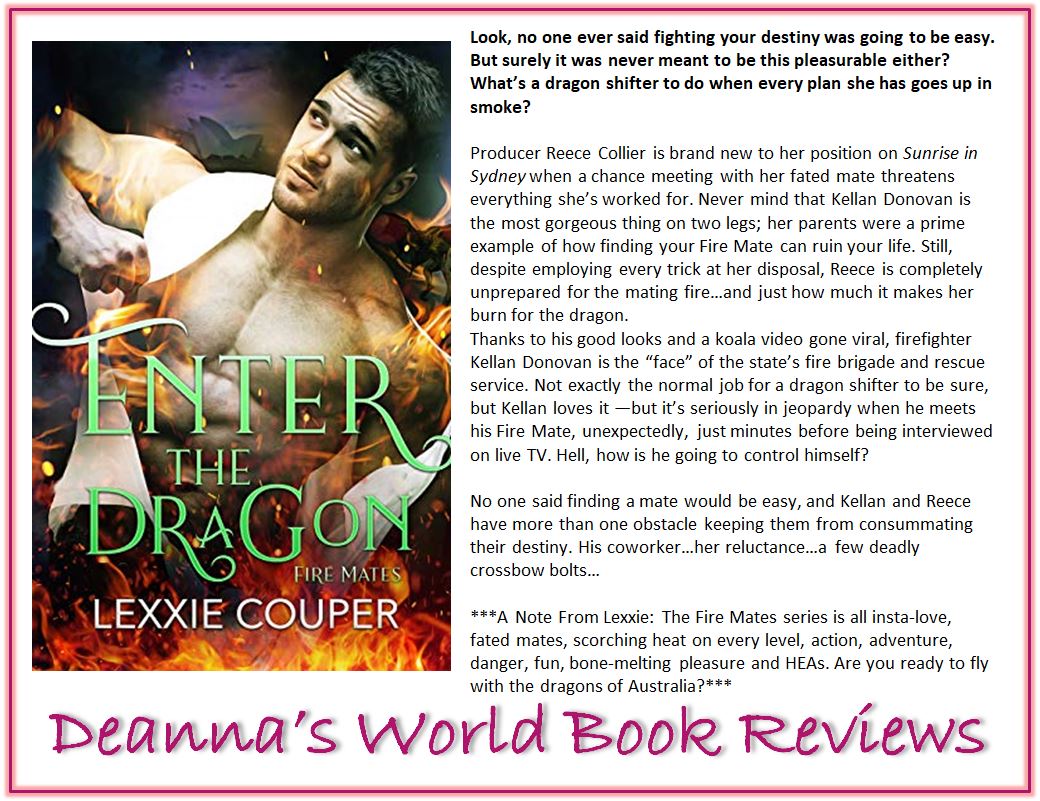 Enter The Dragon is a fun, sexy dip back into the Fire Mates world where when the dragon shifter mates meet, nothing matters but getting together and consummating the bond.
I know a lot of people don't like fated mate stories because the bond or the love is too easy but I love it. I love it when two people are meant to be together and they can't fight the bond. Throw in the fact that they are essentially stuck with each other and they need to figure out how to make it work, and that's very interesting to me.
This book is like that. Reece is stubborn and independent and determined to resist the fire mate bond. Only she can't. I liked that Ms Couper takes the time to allow Reece and Kellan to get to know each other in the midst of the mating frenzy. Time for Reece to discover that Kellan is a nice guy. He's kind, caring, strong, brave, and selfless, and even being an apex alpha he had a self-deprecating quality to him that is very endearing. And similarly, Kellen gets to discover that Reece is smart, brave, and funny. So while the mating fire brings them together, it is Kellan and Reece as people that they fall for in each other.
There are obstacles in the way of Reece and Kellan getting together despite the incandescent bond between the two of them. Those pesky dragon hunters who feature in every book in the series just pop up at the most inconvenient times.
View all my reviews
Ab

out the author




Lexxie Couper:
Website
-
Facebook
-
Twitter
-
Goodreads
-
Amazon
Find Deanna around SOCIAL MEDIA: