My rating:
Heat rating: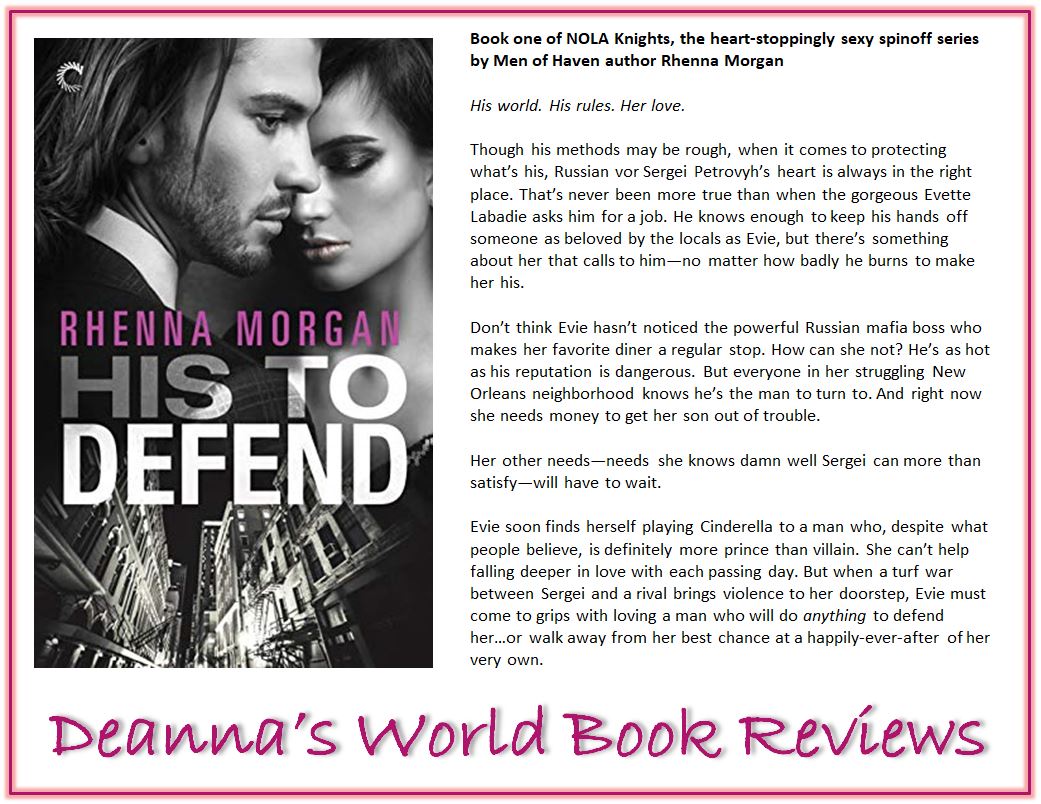 His To Defend is a delicious, sensual, breathtaking dive into the inner workings of the Russian Bratva and what it means to be under the protection of one such as Sergei. Hang on for one heck of a ride.
Confession time. I love Ms Morgan's writing. Each time I read a book of hers I'm once again blown away by the sensual slide her words evoke through my senses. Reading her writing is pure indulgence and decadence. Every word an evocative dance in my mind.
Even before I read the book, I knew I would love Sergei. I enjoyed the brief glimpse of him in Knox and Darya's book in the Men of Haven series and knew he would be exactly the kind of man I'd fall in love with while reading. Ms Morgan did not disappoint. Sergei is as dark, commanding, and delicious as he is protective, demanding, and fearsome. He lives by a set of rules not found in normal men but he has honor and integrity in what drives him. While building his business in the New Orleans community, he's also interested in making the community better, safer, and a place where he can call home. I loved the way he treated Evie. Like she was the light in his world and every breath from her was precious. I love the way he cared for her safety and the way he protected her, made sure no harm or suffering would touch her. And when it did, he dealt with it. I love that he was a man who took charge. He was the pakhan and he commanded everything and everyone around him. What's not to love?
Evie is a delight. She's sassy, feisty, and strong. You need to be to stand up to a man like Sergei and hold your own, to not get swallowed up and lose yourself. And boy, does Evie has a lot of standing up to Sergei so he doesn't bulldoze his way through her life though he does try. I love that Evie fought for what was important but at the same time gave when it was necessary. She knew when to stand back and let Sergei take charge and accept that there are just certain things that a man like Sergei needs to take care of on his own terms. Evie is laughter and sunshine and light.
I don't usually talk about secondary characters but I love Emerson, Evie's son. He's as delightful as his mother and such an old soul. He's not your normal seven year old kid but he's smart, wise, and charming. And Uncle Carl. Well, what a sleaze. Ms Morgan certainly managed to make him extremely unlikable and he proved to be the kind of man who deserved whatever he got. I wanted to smack him a time or two. Ick.
This is a fantastic start to the new series and I can't wait to find out whose book is next. I'd read the heck out of it.
View all my reviews
A
b

out the author




Rhenna Morgan:
Website
-
Facebook
-
Twitter
-
Goodreads
-
Amazon
Find Deanna around SOCIAL MEDIA: