Destiny's Knight (Guarded Souls #1)
by
Lexxie Couper
Purchase link:
Amazon
My rating:
Heat rating: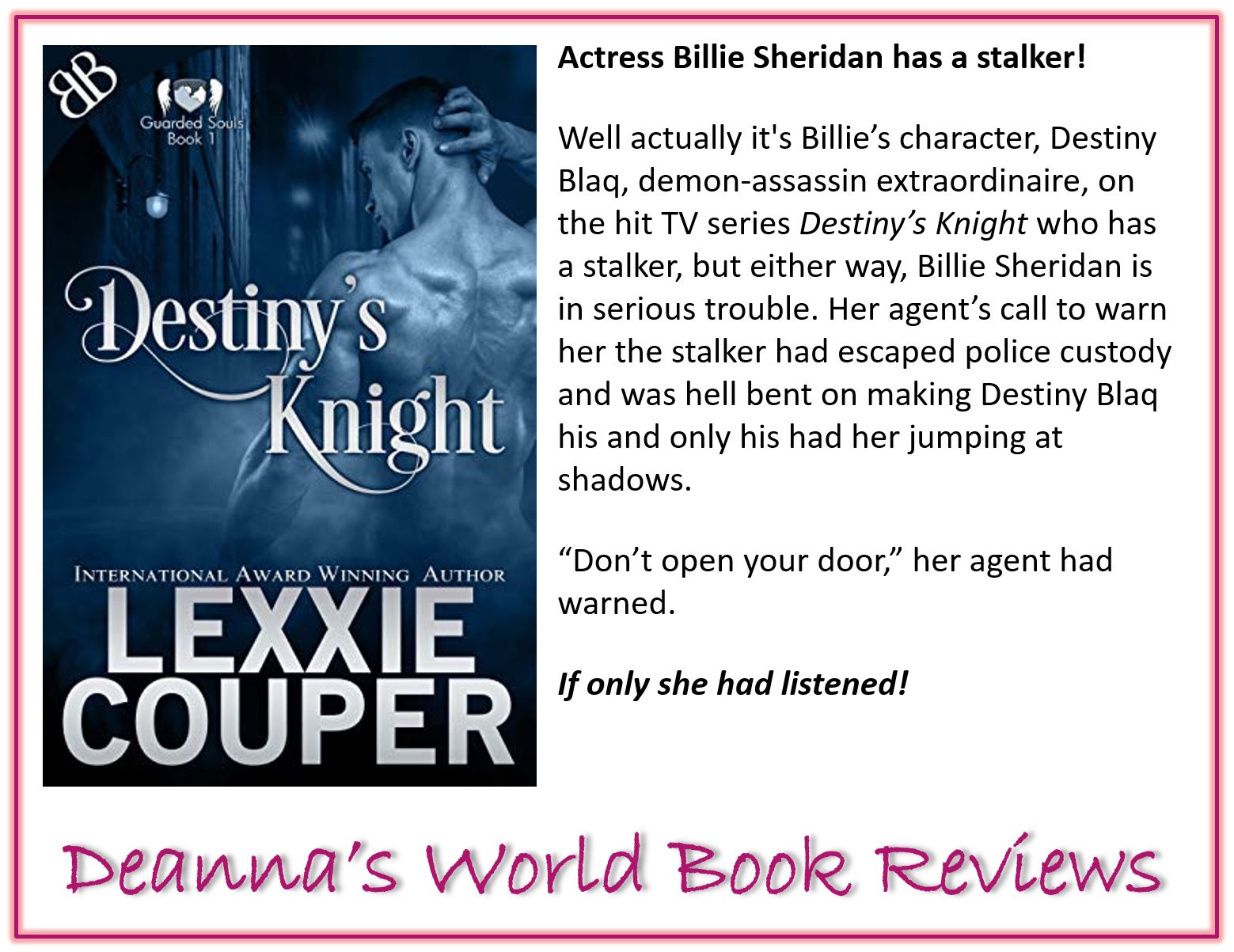 Destiny's Knight brings us a new paranormal romance by Ms Couper with a smart, sassy, strong heroine and a melt your pants gorgeous fallen angel. Billie will have you rallying to her side and you'll want Nath for your next book boyfriend.
I have a complicated relationship with paranormal stories featuring angels. When I first encountered them, I struggled with the concept given my rather conservative religious upbringing. It took a little doing but I've managed to overcome my own preconceived notions regarding them. Now, of course, I love them and man, did I fall hard for Nath.
Nath is such a gorgeous creature and so conflicted by his love for Billie. He's known her from the moment she was a twinkle in entire scope of the universe. He's been fascinated, enamored, enthralled, and in love with Billie for eons. And he's been waiting for her for just as long. I loved his patience and his desire to protect her, wanting her to get to know him as he knew her. The circumstances drawing them together was not ideal but the stolen moments were filled with intense longing and desire.
"I would rather be cut off from the only existence I know, the only one I knew for thousands of human years, than to deny your place in my heart." "You fell for me," she whispered. "I fell for you."
Billie is one sassy heroine. She's smart and strong, and she doesn't take crap from anyone. She knows how to stand up for herself and look after herself, but against her deranged stalker, she needs more protection than she can afford herself. It takes her a while to get used to the idea of needing Nath's protection and she resists him in the beginning. There were moments in her resistance that didn't sit well with me but her some of actions were justifiable. I may not have agreed with or condoned her behavior but I understood what drove her to them. In the whole scheme of things, I don't think anyone else reading the story would even notice. But when Billie falls for Nath, she falls fast and hard.
Ms Couper is well-known for her erotic romances, and even though this is not one, the way she brought Nath and Billie together was beautiful to read. Nath's sense of wonder and rapture, coupled with Billie's pleasure was a sight to behold. It made me very happy for Nath that he finally got his heart's desire.
I hope this is the start of a series for Ms Couper because I would love to read about James and how his cheeky self gets brought down by the right woman. Well done, Ms Couper.
View all my reviews
Ab

out the author




Lexxie Couper:
Website
-
Facebook
-
Twitter
-
Goodreads
-
Amazon
Find Deanna around SOCIAL MEDIA: