Collision Point
Brute Force #1
By: Lora Leigh
Releasing February 27, 2018
St Martin's Press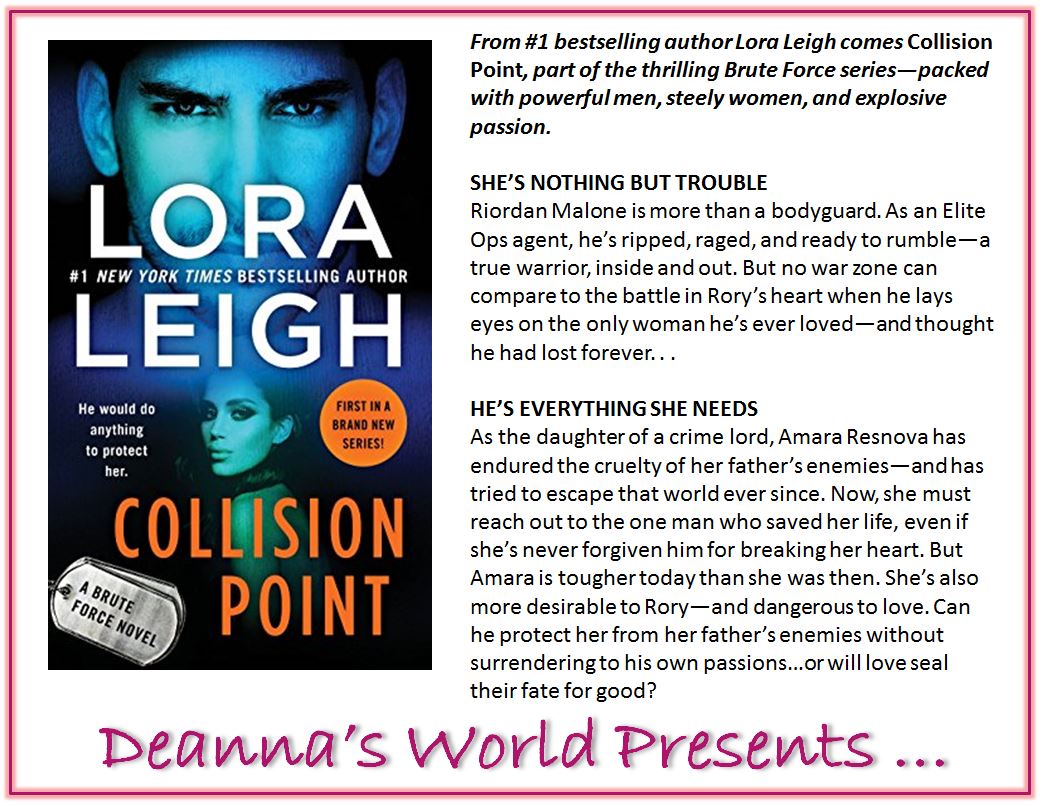 ---
Excerpt
Chapter one
Six months later
She'd been told that West Texas in the spring wasn't much different from West Texas in the fall, but as Amara Resnova pulled in the driveway of the small house outside Alpin, she felt she had to disagree with that summation.
Stretched out in front of the house with its wraparound porch was a lush green valley fed by a lazily running stream winding through it. Sunlight speared from the cloudless blue sky, bright and warm, spreading its heat in a comforting embrace.
And the charming little house sat just beneath the warming sunlight. Spreading out in front of it was the picturesque valley; behind it, the normal West Texas part-grass, part-scrub, potential-desert landscape that never failed to amaze her.
On a rising knoll stood a lone tree, thickly branched and heavily leafed, shading what appeared to be a small cemetery. Rather than looking desolate and lonely, that little plot of land with its surrounding black iron fence, appeared instead to keep watch over the land below it. As though those buried there kept a gentle eye on those who came after them.
As isolated as the property was, it should have appeared stark. Instead, an air of contentment and peace lay over it. As though the land, the house, the vibrant green of the valley, and the cemetery that overlooked it all, knew all there was about life and love and had locked all those secrets within it to sustain it.
Drawing in a deep breath to steady herself against the fears she hadn't been able to push behind her even in such a lovely setting, Amara turned off the engine, forced her hands not to shake, and opened the door before stepping into the warmth that filled the valley.
It wasn't a blazing heat, but rather a gentle wave that filled the air and wafted around her. And in it there was a strange sense of familiarity. A "been there before" feeling that had her heart racing, her mouth drying as she stared around and drew in the sights and whispered sounds of a land as yet untouched by civilized life.
Here, a person could see the stars at night rather than the city lights. The sound of the lonely coyote rather than the rush of traffic. Peace rather than a hectic race.
Here, perhaps, she could find some answers. And maybe there was a chance to find everything she'd lost.
Tugging the hem of her tank, she straightened it over the band of her jeans beneath the light denim jacket she wore as she walked slowly from the car to the stone path that led to the porch. The thick carpet of grass stretched from the valley to surround the house, but she'd noticed as she parked that it became sparser at the back. As though that carpet of green with its lazy stream could only struggle so far to embrace the weathered home.
The dark blue pickup parked at the side of the house attested that someone lived there. And she knew the vehicle belonged to the man those in town called Grandpops Malone.
Riordan Malone Sr. was grandfather to Riordan Malone the younger, she'd been told, when she stopped at the gas station and auto repair garage outside town that bore the name MALONE AND BLAKE—SERVICE AND REPAIR. There, she'd learned Riordan the younger was part owner but currently out at his "grandpops'" place.
Riordan.
That name haunted her dreams, her fantasies. Though the man in those dreams wasn't an old man. The one who came to her in those nightly images was tall, strong, impossibly sexy.
As Amara forced herself to walk to the porch, she looked around, searching for the face, listening for the voice of a man she knew only in those dreams. The man she'd escaped her father's protection to go search for.
Was he friend or foe?
Even she couldn't answer that question, not fully. But for some reason, she couldn't seem to help the need to learn which he would be.
As her foot lifted to the first step, the front door creaked, causing her to pause, to wait with bated breath as it slowly opened to reveal an aged, gray-haired gentleman she suspected was Riordan Sr., Grandpops.
In his worn loose jeans, well-washed white shirt with sleeves folded neatly back below his elbows, scuffed leather boots, and with that serene expression, the man looked as old and wise as the mountains themselves. And there was no doubt he was just as damn stubborn.
"Well, hello there." The smile that lifted the corners of his mouth was reflected in his dark blue eyes. "Can I help ya, young lady?"
There was a whisper of a lyrical accent. Irish. Just a whisper though, not the full, male lilt she sometimes heard in memories that never fully revealed themselves.
"I'm looking…" She swallowed nervously. "I'm looking for Riordan Malone."
His head tilted to the side, his thick graying hair neatly trimmed but giving a hint of the rogue he must have been in his youth.
"I'd say you're looking for my grandson rather than myself," he said gently. "He should be along in a bit. His da just called to say he's done stole that wild pony again and headed this way." A chuckle filled the air. "Come along up to the porch and sit with me till he arrives. That wild beast always gives a show when he comes barreling through the valley."
Moving gingerly up the steps to the porch, she followed him to the comfortable-looking cushioned rockers that faced the valley.
"Does he steal ponies often?" She frowned as she sat down, feeling more off balance than she'd felt in her life—which was saying something considering the past six months.
"Just that wild-assed black son of a satan that took a liking to him." He grinned back at her, his gnarled hands gripping the arms of the rocker loosely. "His da threatens to kill the beast every time Riordan takes it out. He swears it's gonna kill the boy."
Boy.
That didn't sound like the man she was searching for. But, everything she learned assured her this was the one place she was certain to find him.
"Ahh, here he comes now." Fondness filled the old man's tone as he motioned to the valley.
He appeared at first as no more than a storm of dust rising beyond the verdant green of the valley.
Amara watched, her heart racing as that trail of dust grew steadily closer.
It was an imposing sight, she had to admit.
A sensual, exhilarating sight.
The horse, black as midnight, neck extended, flying across the deserted landscape, was enough to hold the eye. But the sight of the man, bent low to the horse's neck, black hair flying back from his face, riding without a saddle, was a bit more than simply imposing.
It was exhilarating.
Imposing and savage and wildly erotic.
---
Goodreads
|
Goodreads series

Author Info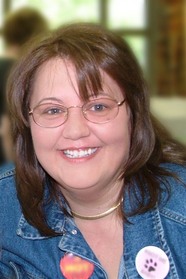 Author Links:
Website
|
Facebook
|
Twitter
|
Goodreads
|
Amazon

Find Deanna around SOCIAL MEDIA: