My rating:
Heat rating: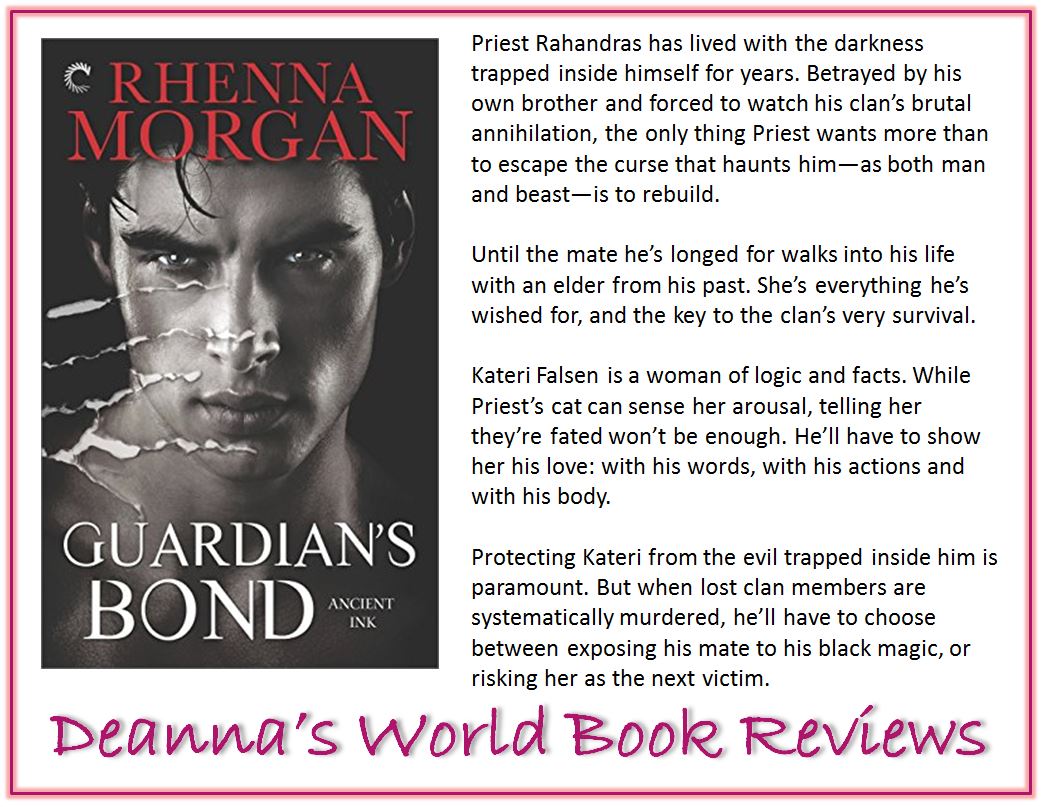 Guardian's Bond is the start of a new series by Rhenna Morgan featuring a sexy, commanding high priest and his ever so skittish mate. It brings a world rich with magic and custom as good against the evil greed of one man who refuses to stay dead.
Let's start with what's wonderful with this story. Priest. Priest is magnificent. He's commanding, confident and dedicated. He's high priest of his clan and he takes his role seriously. The depth of his caring and nurturing for his people is boundless. He is indefatigable in his commitment to bringing the clan together, training them, protecting them, and helping them thrive. Aside from that, his patience is immense, especially when it comes to dealing with his mate, Kateri. There were times when I wished he'd pushed a little harder and was a little less patient with Kateri. His gentle teasing, his directed nudging and his tenderness is only surpassed by his sexiness and his passion. That man will melt your Kindle with his hotness. If nothing else, read this story to get to know Priest. You'll fall for him as much as I have.
For the first half of the book, I did not like Kateri. At. All. She was held back by her logic and her fear. Yes, she was curious and inquisitive, but she was also filled with so much fear that she was afraid to take a chance at what life and Priest had to offer her. She held back her own chances of happiness and love. That frustrated the ever-loving heck out of me and I wanted her to get the eff over herself. She was the reason I didn't enjoy a large part of the book and I kept wanting to put it down. She tried my patience sorely. I could tell she had fire and passion within her, if only she had the courage to let go and take hold of what fate had in store for her. Not just a mate in Priest but a wholeness she never had. When she finally accepted who she was and embraced her potential, she was stunning and a great match for Priest. And the book got a heck of a lot better.
I enjoyed the world building around the Volan and their culture and magic. Ms Morgan has build a rich world filled with potential. I also loved the way she handled how the male Volan recognises his mate, and what had to be done in order to court and woo said mate. I like the way this story ended with a glimpse into the pair for the next story in the series. It was tinged with hope and a little bit of humor. The tone it set was perfect. I'm looking forward to the next book in the series.
View all my reviews
A
b

out the author




Rhenna Morgan:
Website
-
Facebook
-
Twitter
-
Goodreads
-
Amazon
Find Deanna around SOCIAL MEDIA: