Warrior (Breeder #3)
by
Cara Bristol
Purchase link:
Amazon
My rating:
Heat rating: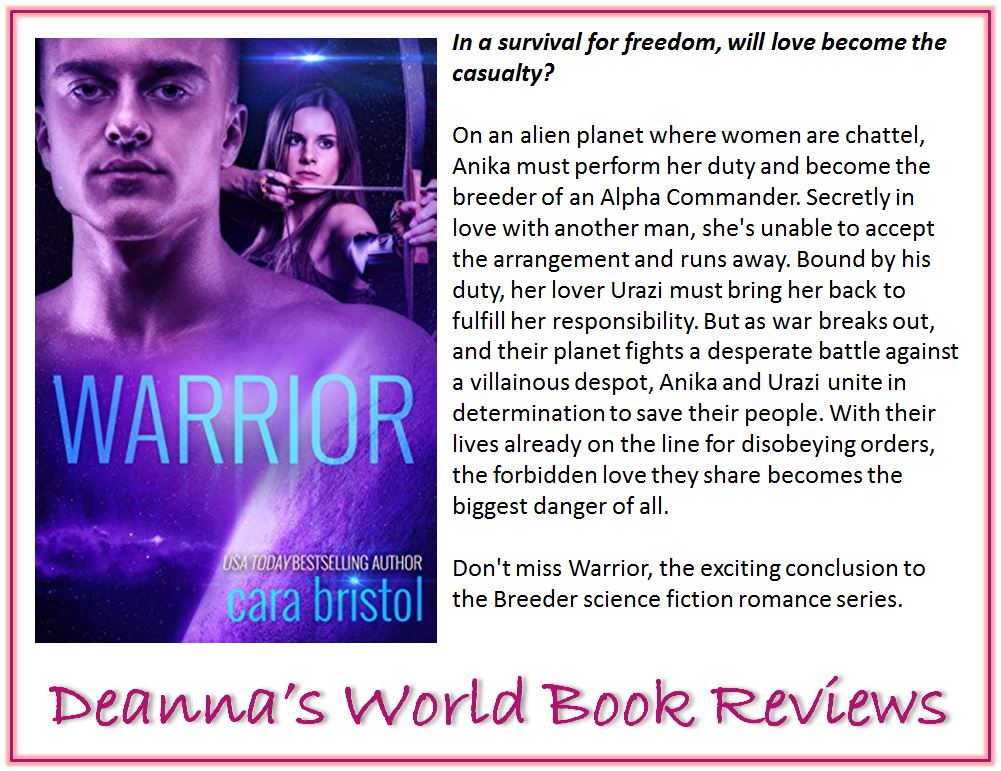 Warrior is the brilliant conclusion to the
Breeder series
where the Parseon women fight for their rights and their emancipation under the rule of their alphas.
I must confess, I struggled with Warrior at the beginning. I could not connect with Anika as much as I liked her. I could understand her desire for freedom and to be able to make her own choices. However, I could not handle the fact that at the hint of trouble, she felt she needed to run away rather than face the circumstances and consequences of her actions. Perhaps she has been so beaten down by her culture that she feels she has no option but to run away. I wanted her to stay and fight for her rights though.
"Anika didn't understand why her Terran friend chose to surrender the freedom to come and go as she pleased, to be respected as an equal, to decide her own fate. Perhaps you didn't appreciate what you had always had."
I also had a hard time with Urazi to start. I admit, I love my alpha males, so with Urazi being an obvious beta male made it hard for me to connect with him although he did take on some rather alpha characteristics while out looking for Anika and when he felt he needed to discipline her the way an alpha would. Alas, Anika is not one to learn her lessons through discipline though. What put me off Urazi most in the beginning was his conflict over his sexual desires towards Anika. You see, on Parseon, only alphas have sex with the women and that's only for the sole purpose of breeding. Sex for pleasure is unheard of and if the men felt sexual urges and needed to alleviate those urges, they turned to each other. To desire a woman and want pleasure from the sexual union with them is considered deviant. I recall Marlix struggled with that briefly with it too in Terran but the problem for him was much less since he was Alpha Commander and it was proper for him to take on a female breeder. Bonus points for enjoying the sex for him! Anyway, back to Urazi, the fact that he kept beating himself up for his deviant behaviour got to me. But the fact that he owned his desires and decided to not let what was considered acceptable hold him back is a point in his favor. Me, I just liked that he was randy and liked to get it on with Anika. :-p
Despite the inauspicious start with Anika and Urazi, they both came into their own as they embarked on a dangerous mission to free Parseon from a despotic tyrant in the hopes of stopping the civil war that raged across the planet. Both Anika and Urazi grew from strength to strength as they learned to live by their wits and to trust each other even as their gender separated them. It was common for Urazi to fall back into disciplining Anika to get her to do something he wanted, and it was common for Anika to disobey. The entire story is momentous for Anika as she has to grow from being a trod upon female to one who could stand up for herself and her own rights. As I said earlier, she had a penchant for running away and that happened throughout the story. It took a big ah-hah moment for her to realise she needed to stop running and face her fears and her challenges.
"She straightened from her slumped position. Did a warrior surrender when the battle grew fierce? No. He fought harder. If she accepted defeat then she deserved what she received. She needed to remember her origins. Parseon. Female, yes, but still the offspring of a sire who had produced a Commander. Alpha blood ran in her veins. She wouldn't submit without a fight."

"She wanted to be the person he assumed she was—steadfast, loyal, and true. Like he was. Not a sneaky liar. When she'd fled Marlix's abode, she had abandoned her honor, she realized. Had given no thought to duty—only to fulfilling her selfish wishes."
I love this entire series. I loved
Breeder
and thought it was one of Ms Bristol's best work.
Terran
was thoroughly enjoyable with the feisty Tara. Warrior is an excellent conclusion to the series. I had wondered what Ms Bristol would do to bring order back to Parseon and to bring about the changes that were necessary for the society to change and allow more equality between the genders. I thought the way she handled it was brilliant. The epilogue was particularly satisfying.
This is a great conclusion to the series and it shows how far the rights of women have come in Parseon society. Even then, Parseon society has a long way to go before it can call itself a democracy. If you haven't read this series, do. Start with Breeder and go on the journey with the women of Parseon. Cheer for them along the way as they gain more and more freedom.
View all my reviews
Ab

out the author




Cara Bristol:
Website
-
Facebook
-
Twitter
-
Goodreads
-
Newsletter
-
Amazon
Find Deanna around SOCIAL MEDIA: