My rating:
Heat rating: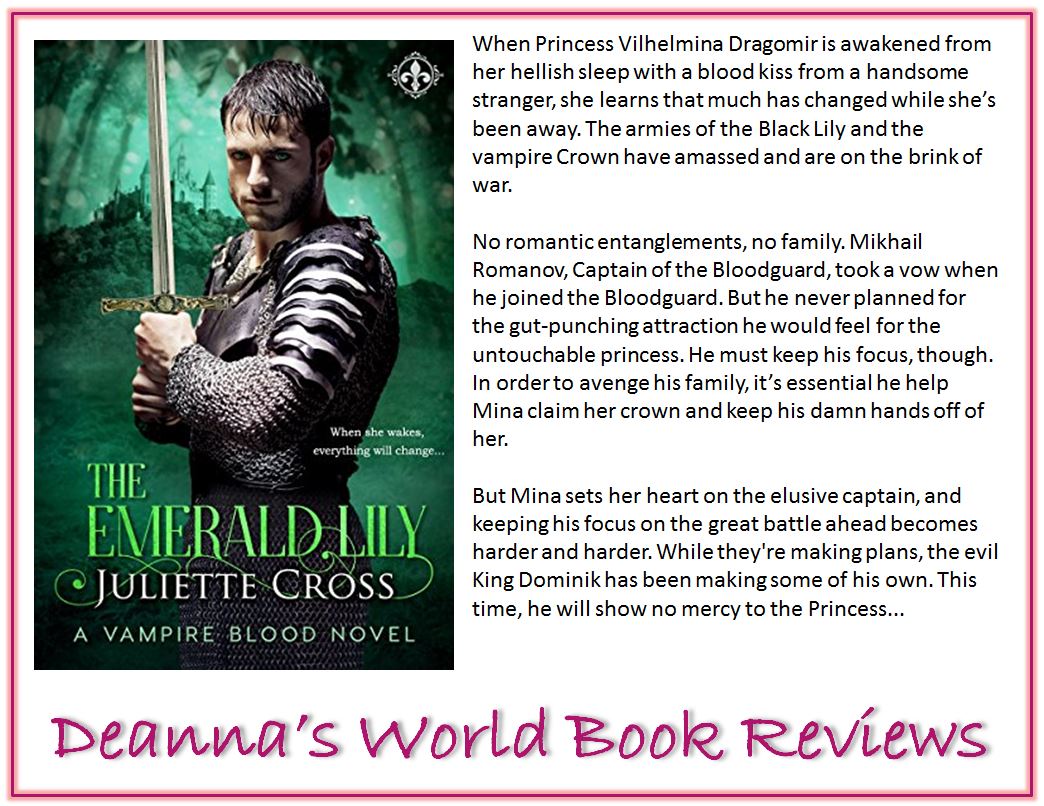 The Emerald Lily is the stunning conclusion to the Vampire Blood series. Filled with intensity, mysticism and magic, it will catapult you into a world where love, honor and nobility will conquer evil through sacrifice and bloody battle.
I have loved this series from the start but with each subsequent book, the stories get better and better, and the intensity ratchets higher and higher. And with each new book, I fell more and more head over heels in love with the heroes and heroines of the stories. If I were asked to choose just one, I'd be hard pressed to do so. It's a good thing I don't have to.
There are many surprises in The Emerald Lily. I think Ms Cross intentionally saved the best for last. There are questions about Mikhail's heritage (which I guessed early on - yay me!) and Mina's birthright. The prologue to the story moved me so much I was in tears through most of it. I loved the drama wrapped up in the retelling of the Sleeping Beauty fairy tale. I loved the way Ms Cross opens with Mikhail storming Briar Rose to rescue Mina and in doing so skillfully weaves key elements of the fairy tale we will instantly recognise into the narrative. And Mina's surprise. Wow! Even when I thought I knew what to expect, I was taken aback by the way it turned out. Kudos, Ms Cross. I didn't see it coming in that EXACT way and what a climax that was!
I have loved Mikhail from the moment I met him in The White Lily. He was so serious and so focused on his endgame, and nothing would steer him from his path. I guess he wasn't expecting Mina because she threw him for a loop. All his carefully laid plans, all his discipline and self-control swept away by her innocence and honesty. I loved seeing the transformation in Mikhail, from the time he meets Mina and battles against his desires to the moment he gives in and realises he can't fight his feelings for her. I loved his honor, his integrity, and his protectiveness.
It's almost impossible to not love Mina. She embodies a sweetness and innocence that is refreshing especially in contrast to the evil queen. But Mina also has a resilience to her that is yet untapped and as she undergoes a transformation from trapped princess to rightful queen, her strength and honesty goes a long way to endearing her to the hearts of the people around her. I loved seeing Mina come into her own and take control of her life with the help and support of the right people, especially Mikhail. Of course, when Mina fully came into her birthright, it was a magnificent sight to behold.
I'm sad this is the last book in the series but I've also enjoyed it tremendously for many reasons. The stories have depth, heart and emotion. It deals with an important issue - the subjugation of the weak by the strong, and the righting of wrongs against basic human rights and dignity. It also doesn't hurt that Ms Cross' vampires are sexy as all get out. I hope there will be the opportunity for stories for some of the secondary characters like Grant, Riker, Dane and Dimitri down the track. I'd love to see them get their happy ending too.
Bravo on an amazing conclusion to an amazing series, Ms Cross. These books have been some of my favorite reads for the year.
View all my reviews


Ab

out the author




Juliette Cross:
Website
-
Amazon Author Page
-
Facebook
-
Twitter
-
Pinterest
-
Goodreads
-
Newsletter
-
Amazon
Find Deanna around SOCIAL MEDIA: