I've discovered something new. A sub-genre of romance called

Reverse Harem

. Since I know nothing about a Reverse Harem I asked on of my favorite authors, Lily Harlem, to join us and tell us all about it, as well as her new Reverse Harem series.

Please give Lily a very warm welcome.
Exploring Reverse Harem


Thank you so much for inviting me to your blog today. It's great to be here. I've been working in a new sub genre the last few months and having the most amazing time. Some of you will be aware that I like to write ménage a trois romance (and I write it HOT), well now I've been penning something a bit different… a sexy new contemporary reverse harem series.
What is reverse harem I hear you ask? Basically it's one girl, and as many guys as she can handle. Yes, that's right, she gets to have her cake 'and' eat it. There's no wild jealousy, each man gives her something unique, is of course crazy gorgeous, and they all love her desperately.
Many reverse harem novels are paranormal and I've read some great ones, but like ménage a trois the dynamics of reverse harem fascinate me. Just how can one woman cope with three, four, five or many more men in and out of the bedroom? How does she juggle her time with them, her affection and of course, as us ladies know, men need a little…managing.
Which is why I decided to write a contemporary series called
THE CHALLENGE
. I wanted to see if I could make reverse harem work in the 'real' world – well fictional 'real' world, but you know what I mean.
To do this I needed a strong woman, a bunch of guys who were very different, and I wanted to have them isolated to start with, to establish the harem. Which is why I came up with
CASTAWAYS
. A beautiful deserted island, five super sexy guys, just how would a hot-blooded woman pass the time?
With Olivia, Harry, Evan, Raul, Mason and Lucas (Mason and Lucas are twins) all connecting I set them on a new adventure in TEARAWAYS. Each guy acts differently with her, each has a special place in her heart. And as adventure unfolds I've kept their relationships and friendships very much the core of the story.
RUNAWAYS
hits the shelves tomorrow, and it's here it becomes clear why Harry's billionaire father set up The Challenge in the first place. Amidst the wilds of Africa it's blatantly obvious Harry's wealth and fame is not even a feature in how Olivia and the other men see him. He's one of the guys, he works hard, enjoys banter, and he's finally found what he was looking for - true friends and a woman who loves him for him and not his money. The people he's with now are independent and successful in their own right, they're with him because they want to be not because they need to be.
I have enjoyed writing The Challenge so much, but it's not stopping at
RUNAWAYS
, I'm now working on STOWAWAYS and as long as readers keep reading…I'll keep writing. The travels and adventures of Olivia and her men can go on and on as they face life's ups and downs together.
I hope you'll dip your toe into the reverse harem pond, it's a lot of fun, a bit different and totally fantastical.
Thank you for reading
Lily Harlem
This is so exciting and sounds like such a sexy read. I can't wait to dive into this series.
And now here's Runaways.
Runaways
The Challenge #3
By: Lily Harlem
Releasing November 30, 2017
Self published
Buy Links:
Amazon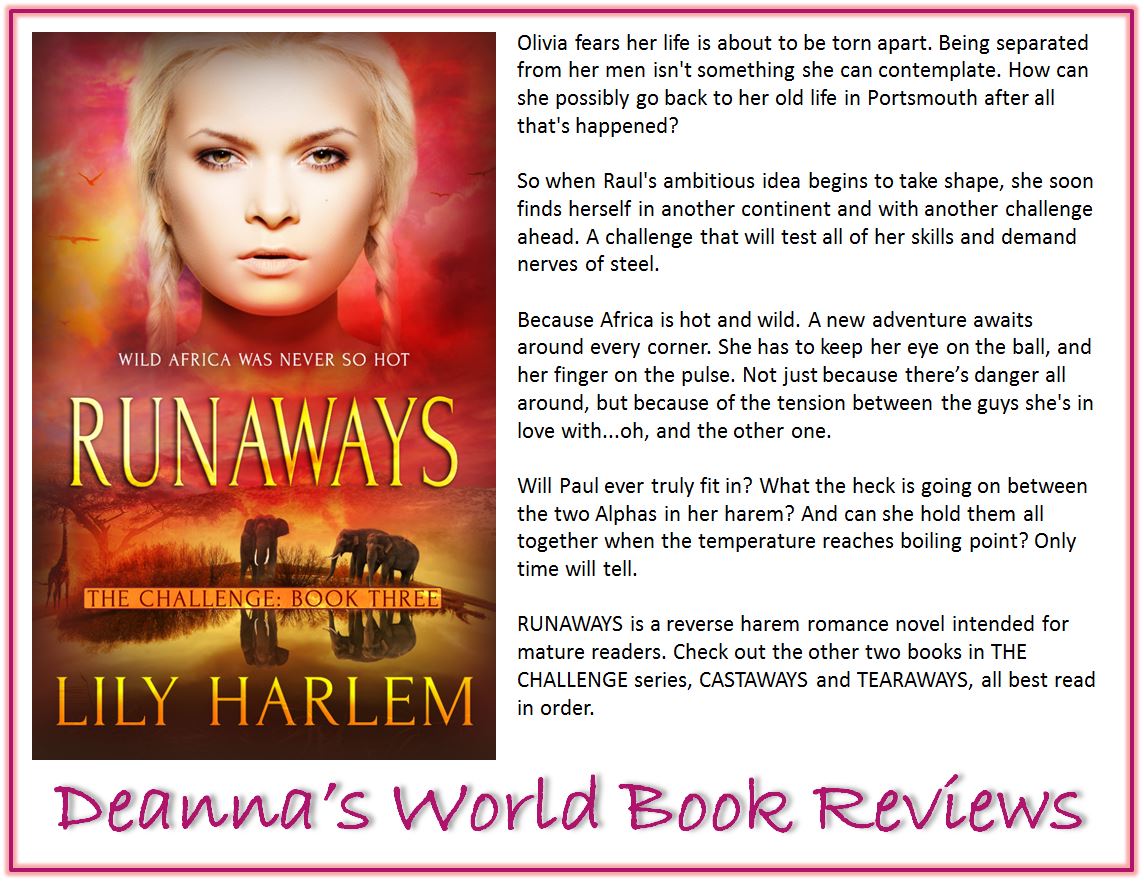 ---
Goodreads
Other books in the series:
Author Info


Lily Harlem:
Website – Blog – Twitter – Facebook – Facebook author page – Pinterest – Raw Talent – BritBabes – Hockey Romance – Newsletter subscription – Hot Ice – Google+
–
Harlem Dae – Goodreads
– Amazon
Find Deanna around SOCIAL MEDIA: