Have you ever wanted to travel the world and didn't get the opportunity? Well, how about traveling to all the exotic locations you've only dreamed of through the wonderful books that explore those locations, laden with steamy sexiness and exotic hunky guys? If you're up for that, then Kiss of the Irish is one such book for you.

Please give Lauren a very warm welcome.
Making the most of opportunities when life comes calling


I sure try not to make a habit of this, but I do have a regret from my later teen years—I wish I'd taken a year after high school to go see some of the world. Visiting the Vatican, exploring the Amazon, stuffing my face with pasta in Italy, visiting a sheep farm in New Zealand are all things I wish I'd done when I was still relatively unencumbered.
Instead, I headed straight into university, and after that of course, I met my husband. Now I have two young children and while I still dream of travelling, it looks like my wanderlust might have to wait a few more years. Here's where being an author is awesome, though, because I can daydream about what might have happened if I'd gone travelling when I was younger—the places I might have gone and, of course, the naughty flings that I might have had!
These daydreams are what gave birth to my Foreign Fling series. The first book, Kiss of the Irish, is set in a fictional village in Ireland. I chose the lovely land of leprechauns to be first at bat because, well, I like Irish accents. Like… an embarrassing amount. So I started wondering what kind of Irishman I would have been attracted to, had I gone there when I was younger… or if I went there now (I'm fairly certain my husband, who is not an Irishman, is just rolling his eyes at me by the point). In my late teens and early twenties, it's likely that I would have chosen some kind of boyband wannabe with floppy hair and a scrawny little body. In my much wiser old(er) age, though, I would want a bad boy. A pierced, tattooed one with a body for days, one who would treat me like a lady until I told him otherwise.
Any takers?
Foreign Fling is a fun series to write, because once I leave Ireland, I'll get to visit Scotland and Australia… literarily speaking, of course. As readers, I hope you'll join me on the journey. Where would you go if you could take a trip anywhere in the world? I'd love to know… maybe it'll be the setting for a future book in this series!
I'm so excited to take a ride with this tatted and pierced Irish bad boy.
And now here's Kiss of the Irish.
Kiss of the Irish
Foreign Fling #1
By: Lauren Hawkeye
Releasing May 15, 2017
Entangled Brazen
Buy Links:
Amazon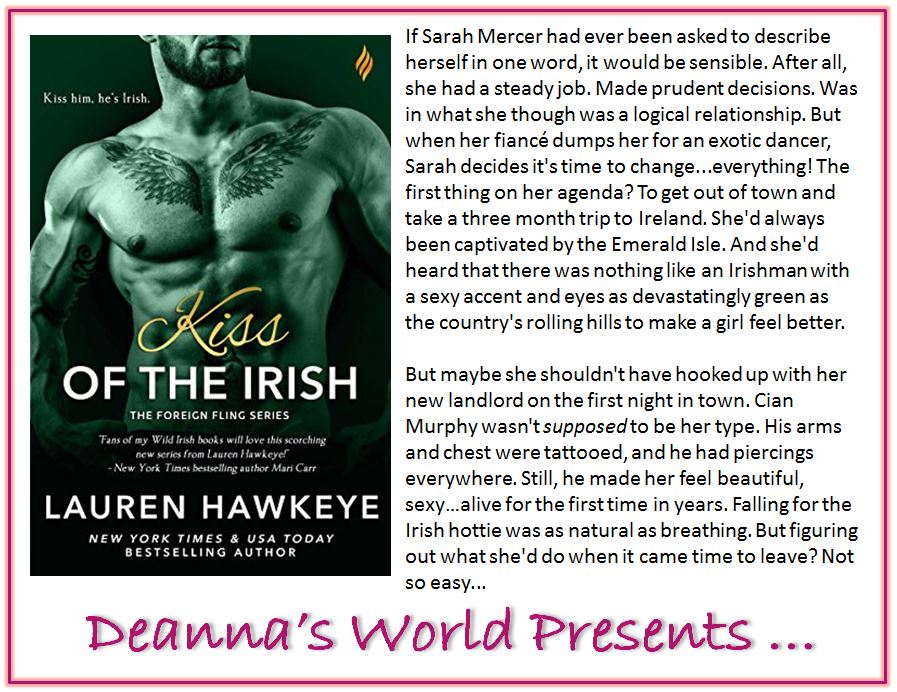 ---
Goodreads
|
Goodreads series
Author Info
Author Links:
Facebook
|
Twitter
|
Goodreads
|
Newsletter
Find Deanna around SOCIAL MEDIA: