I thought for a change from box sets and romantic suspense novels, I'd feature a historical romance instead. Fortunately for me, the fabulous Anna Campbell recently released a novella in her Sons of Sins series and I'm very happy to give it a plug here on the blog.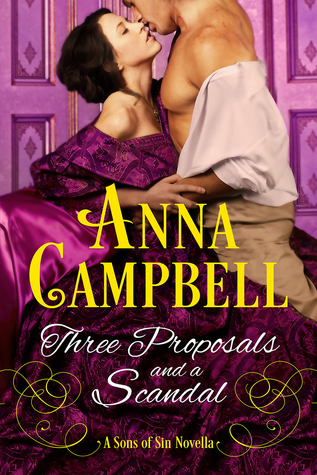 Title:
Three Proposals and a Scandal (Sons of Sin #4.5)
Author:
Anna Campbell
Publisher:
Anna Campbell
Publish date:
22 June 2015
Length:
155 pages
Genre:
Historical Romance, Regency
Purchase link:
Amazon
Whose hot kisses will melt the ice princess? All London is agog to know!

Will beautiful Marianne Seaton choose rich Lord Desborough or handsome Lord Tranter – or dark, dangerous Elias Thorne? Get ready for proposals and passion, rivals and revelations, secrets and scandals at the season's most glamorous house party.

***

As the season reaches its brilliant climax, three very different men pursue beautiful Lady Marianne Seaton. She's the marriage mart's greatest prize – even if cruel and unjust gossip paints her as a woman cold and glittering as any diamond.

Lord Desborough is her father's choice - rich, powerful, safe. Lord Tranter is society's darling - handsome, dashing, charming.

Then there's the dangerous, compelling man nobody in their right mind calls eligible. Elias Thorne, son of scandal, reputed deceiver, possessing a rakish fascination no woman can resist. A lady might choose Elias as a lover, but as a husband, he's too risky a bet. Even if Marianne's forbidden yearning for him threatens her future and her reputation.

When Marianne's suitors pursue her to the year's most glamorous house party, there will be proposals and passion, rivals and revelations, secrets and scandals.

Let battle commence – but will the best man win?
* I am not responsible for price changes. Prices may go up without notice.
Get the other books in the series:
About the author
ANNA CAMPBELL has written ten multi award-winning historical romances for Grand Central Publishing and Avon HarperCollins and her work is published in sixteen languages. Anna is currently engaged in writing the "Sons of Sin" series, which started in 2012 with SEVEN NIGHTS IN A ROGUE'S BED. The fourth book in the series, A SCOUNDREL BY MOONLIGHT, is out in April 2015. Anna lives on the beautiful east coast of Australia where she writes full-time.
Author Links:
Website
|
Facebook
|
Twitter
|
Goodreads
Find Deanna around SOCIAL MEDIA: