Deanna's World Author Service Offerings
Over the years, my team and I have helped many authors successfully manage their publishing businesses through customized author support services. We tailor our service offering to meet each client's unique needs. Whether you require assistance with editing, book launches, marketing strategies, or operations coordination, our experienced team is here to serve as your trusted partners. Together, we can develop personalized solutions to help you be productive and efficient, while freeing you up to do what you do best - WRITE!
Below is a high level snapshot of our services provided within the author publishing lifecycle, followed by a detailed breakdown of some of our most commonly sought after services. If you require more information, I highly recommend taking advantage of our free initial 15-minute consultation.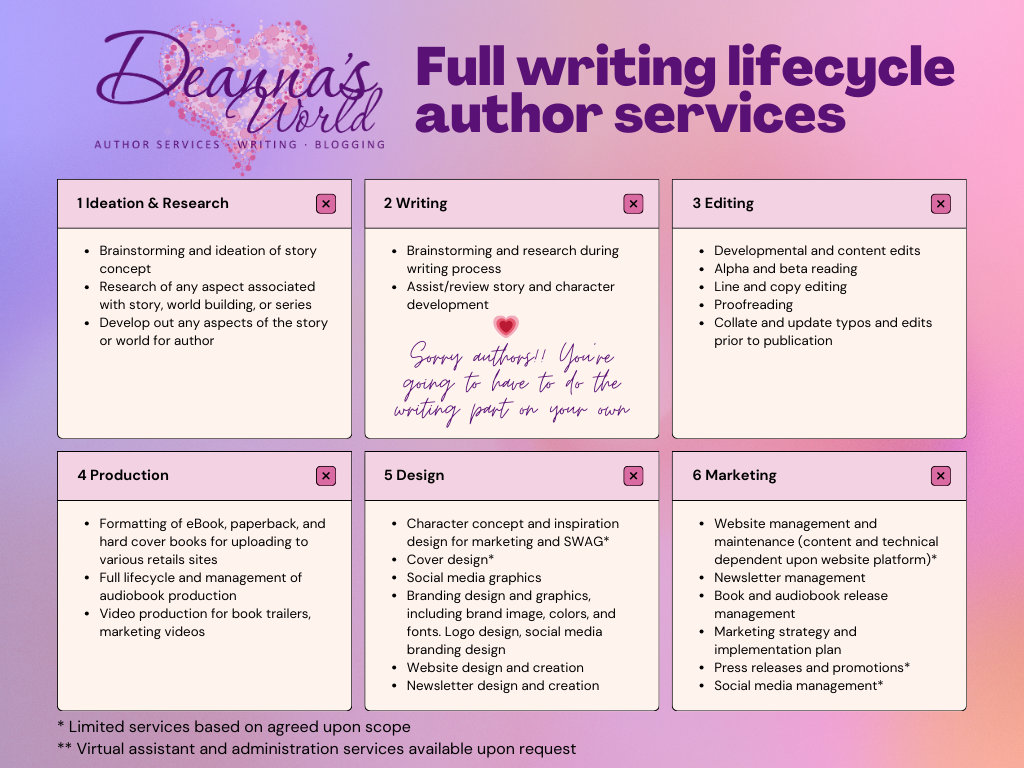 * FREE initial consultation
I recognise that it's not always easy to pick a service provider without getting to know more about them, their services and working style. I am available for a free initial 15-minute consultation to see if my services and your needs align, and to also see if our styles mesh so that we can have a seamless and productive working relationship. Please contact me if you would like to set up for an initial discussion. I will be happy to answer any questions you might have and provide whatever information you might require.
My services include:
* Operational support
Any assistance as required, including time management, release management, planning, organization, administration, etc.
Helping to coordinate and manage other service providers such as editors, cover designers, etc.
* Book release
Book release scheduling, organization and management.
Book release promotion on various social media platforms.
Updating new book information on website and any other platforms.
* Social media scheduling and content creation
Social media posts scheduling and posting to various platforms (admin or posting access will be required).
Social media graphics design (teaser and promo images).
Social media video creation (videos for any social media platforms, including Facebook, Instagram, and TikTok).
* Newsletters
General newsletter and subscriber management.
Preparing author newsletters to send out to subscribers.
* Content distribution
Bookfunnel, Prolificworks, or Booksprout, etc., book downloading management.
ARC review team ebook or audiobook distribution and management (note, I do not chase readers for reviews).
* Website
Website maintenance and management.
* Proofreading
Proofreading near final manuscripts for typos, punctuation, and basic grammar.
* Manuscript critiques, alpha, and beta reading
Critique and/or alpha reading of early draft manuscripts, including a detailed report of feedback.

Critique and alpha reading does not include highlighting typos as I assume this a draft and prior to edits. It is expected that typos will exist and it will not affect my feedback on the story, plot, character development, etc.

Beta reading of near final manuscripts, including a detailed report of feedback.

Beta reading can include highlighting of typos (some basic proofreading) or not, depending on requirements of the author.
Obviously, beta reading without highlighting typos would be a lot faster.
Regardless of whether the beta reading includes highlighting typos or not, it will not affect my feedback on the story, plot, character development, etc.

If you would like an example of the detailed report, please contact me to ask for it.
* Additional ad hoc services
My experience and skill-base is quite wide from over 20 years of IT and business consulting, along with operational and project management. If the services you require do not fit into any of the categories listed above, please contact me to discuss the best way I can help you. I'm certain we can find a way to work together.
* Initial consultation
In order to determine if what I'm offering is suited for you or if you would like some general advice on which direction to take while looking at getting help with your publishing and book business, I am happy to offer a free initial half-hour consult at a time convenient for you via video chat to discuss. This would help me to better understand what you are looking for and also perhaps help you solidify what you think you need help with. Please contact me if you would like to set this up for an initial discussion.

Pricing
Pricing varies depending on services required but service rates are available hourly or in a set number of hours per week or month as needed by the author. For example, services can be purchased in 5 or 10 hour blocks, or can be open ended based on specific work assignments.
If a fixed rate or an exact number of hours/time cannot be determined initially for a service, then it's possible to approach the service based on an estimated amount of time, ie, number of hours, and upon completion adjust to the actual time spent.

If the time spent is less than the estimate, I will only charge for the actual time spent.
If the time required exceeds the estimate, I will inform the author of the potential extra time required and obtain approval before continuing.
Certain services are priced individually on a per item basis, such as social media graphics and video creation.
All rates are available upon request and are invoiced in US dollars via PayPal.
Experience
You can find a detailed list of my experience here.
References
References from authors I work with available upon request.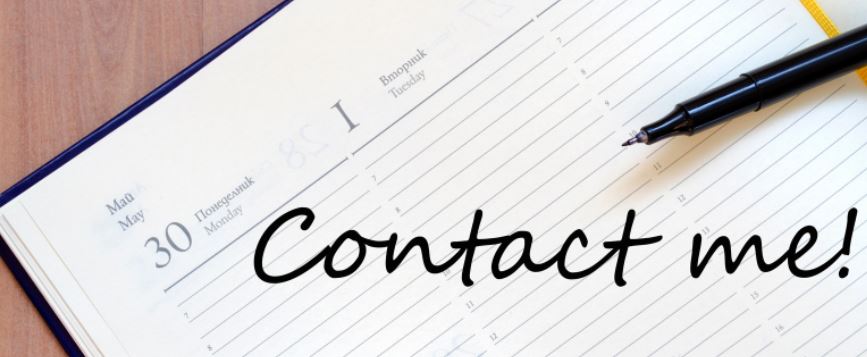 Contact details
Facebook Messenger (probably the fastest way to contact me except when I am asleep. Time zones and all that. A friend request is not required.)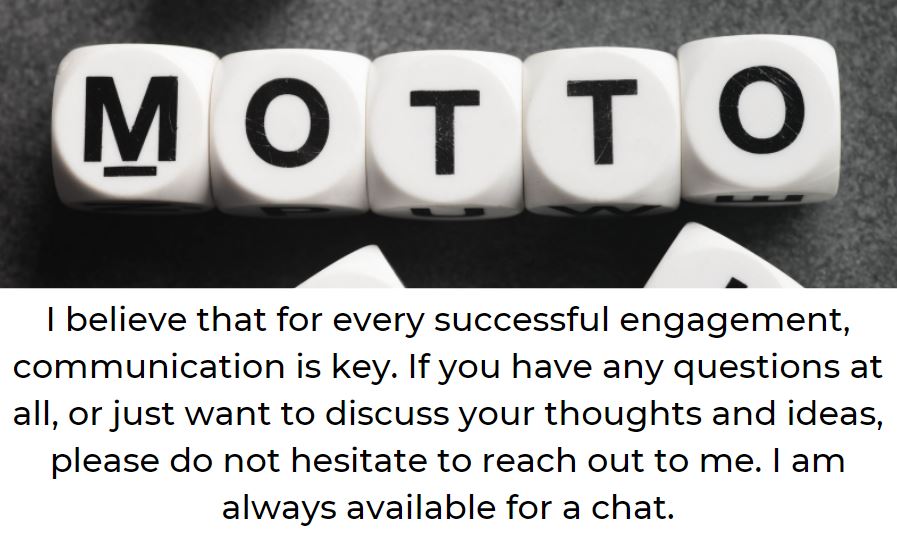 Find Deanna around SOCIAL MEDIA: