Hands On (Hands On #1)
by
Cathryn Fox
Purchase link:
Amazon
My rating:
Heat rating: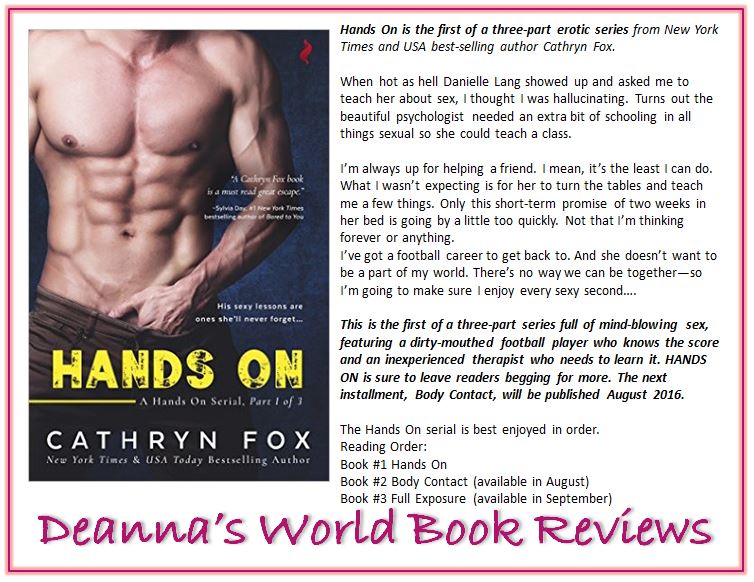 Let me get first get this out of the way - this is a serial. It is the first of three parts. It also ends in a slight cliffhanger, though not a big one, but a cliffhanger nonetheless. You have been warned! Oh yeah, and it's also an erotic romance. :-)
I have to admit the beginning of the story did not start off well for me. Danielle needs someone to teach her about sex because she needs to teach a sex therapy course at the university where she works. She's being egged on by her best friend to find someone to teach her and according to her best friend "any guy will do". That whole advice from her best friend this was very cringe-worthy and left me thinking, one - I do not want a best friend like that and two - I should not be taking such bad advice.
The object of Danielle's desire is Jack. And the next cringe-worthy part which turns clumsy and awkward is her attempt at asking him for sex. I was uncomfortable reading it, which is probably kudos to Ms Fox's writing skill in making me feel that way.
Let's face it, Danielle is naive, innocent and in way over her head. She's also in reality a really sweet girl. She just needed to go about this whole seduction / sex thing in a very different way, which was basically not pretend to be someone she was not. That did not sit well with me and I kept wanting her to come clean with Jack.
Jack, on the other hand, is a great guy. Poor thing, of course, is all confused by the mixed signals he's getting from Danielle but once he figures her out and gets her to fess up about what's going on, he takes charge and it's great from then on. Jack is one hot, sexy guy!! And he's also got a dirty, filthy mouth on him, along with a dominant, control streak. Yum!
If the initial discomfort and awkwardness puts you off, don't worry, it gets much better once Jack takes charge. In fact, it gets super hot.
Now that we're over the initial bumbling around by Danielle, I think I'm going to enjoy the next installments of the serial as Jack continues Danielle's education.
View all my reviews
Ab

out the author





Cathryn Fox:
Website
|
Facebook
|
Twitter
|
Goodreads
Find Deanna around SOCIAL MEDIA: